Welcome To: William J. Chabina Company, Inc.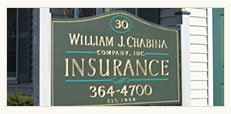 Throughout our lives we all make investments, whether it is the home in which we live, the car we drive, the boat or yacht we sail, the work we do, or the business we might own. William J. Chabina Company, Inc. is here to provide you with the information you need and the insurance products you require to help protect the value of the assets and possessions you have worked so hard to achieve.
We offer a complete range of commercial, business and personal insurance products. As an Independent Insurance Agency we are trusted insurance advisers to our clients. We add value to the insurance transaction by offering a choice of companies and coverage.
You can rely on our licensed agents to search for and find well regarded, financially sound regional and national insurance companies offering the coverage you need at very competitive rates.
Established in 1959 by William J. Chabina, Sr., William J. Chabina Company, Inc. is a 3rd generation family owned and operated Insurance Agency serving the tri-state area. We are an independent Agency and that means we work for you. You can be assured that we will always make your best interests our top priority.
Our clients range from individuals just starting out to those who have achieved high levels of wealth, small businesses looking to succeed, to successful and still growing corporations.
We are committed to providing the most comprehensive, appropriate, and competitive insurance to help protect you, your family, your business and your property. Personal service is at the heart of all that we do, so we will take the time to talk with you about your current situation and future goals. When it comes to insurance, consider us your trusted advisors.
We invite you to take some time to explore William J. Chabina Company's website. Here, you will find more in-depth explana- tions for the insurance coverage we have available, as well as a number of helpful and informative pages.